---
Say Yes to God: A Call to Courageous Surrender
Formerly Dangerous Surrender, now updated and expanded. Your life was designed for far more than just the accumulation of things and the accomplishment of daily tasks. You were created for an adventure of trust. The adventure begins by letting go, taking a leap of faith, and saying YES to the God who deeply loves you.
With raw honesty, Kay Warren goes straight to the heart of the matter: courageous surrender. Kay's journey has taken her from her neighborhood into real villages, filthy brothels, sanctuaries for the dying and into the marble hallways of power. God wants to use you too, wherever you are, as his hands and feet in a broken and hurting world. Take the leap. Discover a trustworthy God who will use you to change the world.
Keep scrolling to learn more about the "Say Yes to God: A Call to Courageous Surrender" book and small group study, free 30-day video devotionals, and chapter resources that are mentioned in the book.
---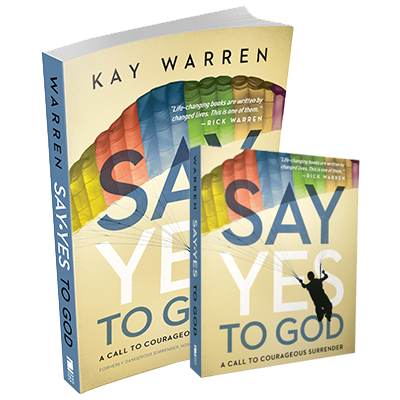 Order the Book
"Life-changing books are written by changed lives. This is one of them."
-Rick Warren
---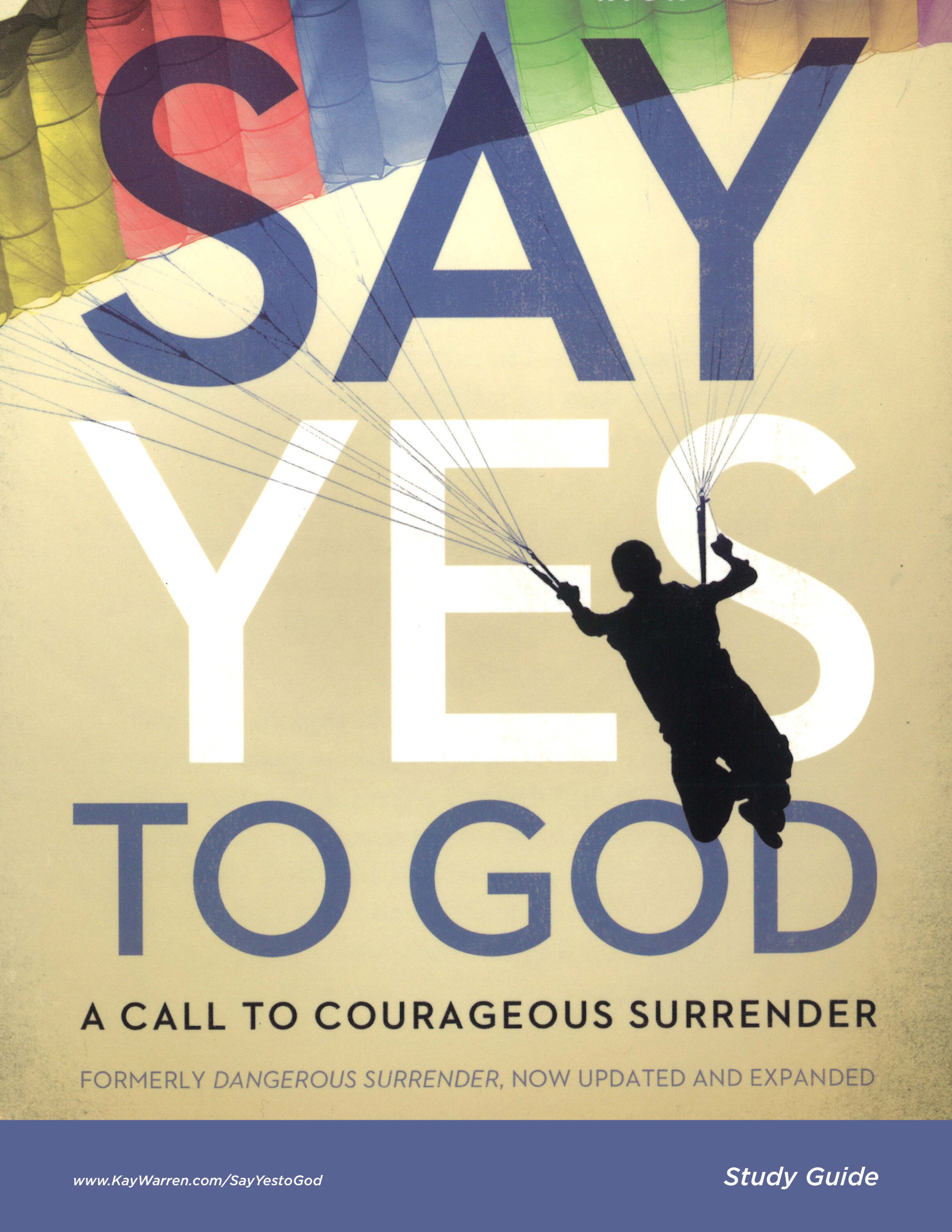 Group Discussion Study Guide
Click the button below to download a free copy of the Say Yes to God Study Guide.
---
---
Chapter Resources
Each chapter has an interactive element to increase or enhance the learning experience. Take the time to enjoy a song, watch a video, or listen to a message from Kay and Rick.
CHAPTER 1 | THE LEAP OF FAITH
---
CHAPTER 2 | THE KINGDOM OF ME
---
CHAPTER 3 | GLORIOUSLY RUINED
Listen to "I Will Never be the Same"
---
CHAPTER 4 | READY, SET, STOP
Listen to "The Spiritual Side of Breast Cancer"
---
CHAPTER 5 | EXPOSING EVIL
---
CHAPTER 6 | MIRRORS DON'T LIE
Listen to "Overflowing Grace"
---
CHAPTER 7 | THE GIFT OF PRESENCE
---
CHAPTER 8 | WHY SHOULD I CARE
Listen to "Why Should I Care"
---
CHAPTER 9 | AN UNEXPECTED BOND
Listen to "Carried to the Table"
---
CHAPTER 10 | LINKING ARMS
---
CHAPTER 11 | WHAT ARE YOU WILLING TO DIE FOR?
Listen to Rick's message about The PEACE Plan
---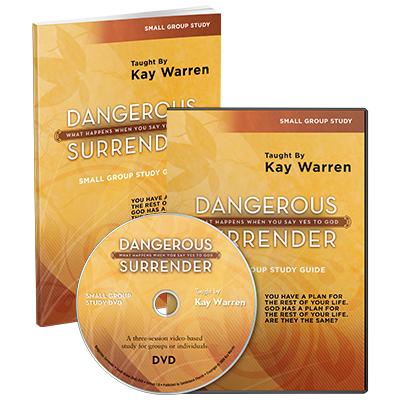 Video-Based Small Group Study
What if God's plan for your life is far bigger, far more risky, and far more fulfilling that what you had planned? If you've ever struggled with knowing and doing God's will, this video-based small group study is for you. Say Yes to God was previously released under the title, Dangerous Surrender.