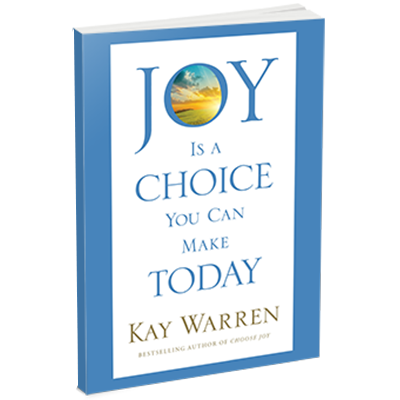 Joy is a Choice You Can Make Today
Live a more joyful life — starting today.
When trouble comes your way, your first thought probably isn't about joy. More than likely, you feel fear, panic, worry, anger, or even hopelessness.
But here's a secret that can change your life: The level of joy you experience on any given day, in any given situation — no matter how challenging it is — is totally up to you. It's not dependent on others — what they do or don't do, how they behave, or what they say. It's not dependent on your circumstances. It cannot be held hostage by pain, disappointment, or grief.
Joy is a choice, and no one has exemplified that more than Kay Warren. While this text was written before the death of her son Matthew, the message Kay wants to share with you remains the same — you can choose joy. And if you want to discover how you can make that choice — every day — you've come to the right place. Drawn from the first three chapters of Kay's popular Choose Joy, this little book illuminates the life of Jesus — a life that exhibited great joy despite opposition, sorrow, and pain — showing you that God created you not for a life of struggle but for a life of joyful relationship with him and with others.