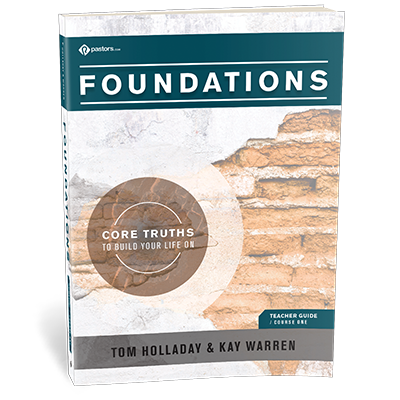 Foundations Course 1: Teacher's Guide
Ideal for Sunday night or midweek series, weekday Bible studies, Sunday school classes, and study groups of any size.
Please select "download a sample" above for "How to use this guide" and more.
Churches all around the world are using FOUNDATIONS to raise up an army of mature believers equipped for ministry in the church and prepared for mission in the world. FOUNDATIONS will take your group on thought-provoking, life-changing explorations of 11 core Christian truths. Teaching others the essential truths of Christianity will challenge you, but nothing can beat the rewards of seeing men and women gain a transforming, biblical perspective on God, the world around them, and their own lives and relationships. FOUNDATIONS Course One Teacher's Guide greatly simplifies your job with its easy-to-follow format.
Everything you need to teach these lessons is clearly and methodically laid out for you, with tools, tips, and options to help you meet the unique needs of your group.
TEACHING NOTES — Extensive notes guide you through what to teach and include illustrations and applications of each doctrine under discussion.
HIGHLIGHT SECTION — Four kinds of sidebars help your group connect with God's truths through key words, thought-provoking insights, personal implications, and relevant applications.
TEACHING TIPS: Proven tips help you strengthen your skills as a communicator.
DISCUSSION QUESTIONS — Questions at the end of each study that can also be interspersed throughout the lesson.
SPLIT-SESSION PLAN: Each lesson has an optional cutoff point that allows you to break it into two sessions. Subdivide a single lesson or several lessons at your discretion.
APPENDICES — Additional, supporting material for some topics may be found at the end of those studies.
MEMORY CARDS — Reproducible cards contain a key theme and verse for each of the doctrines covered.
FOUNDATIONS / COURSE ONE includes lessons on . . .
THE BIBLE
GOD
JESUS
THE HOLY SPIRIT
TOM HOLLADAY is senior teaching pastor at Saddleback Church in Lake Forest, California. Tom's passion in ministry is to help people discover a love for the Bible and an understanding of God's truth that changes the way they live. In addition to his pastoral leadership and weekend teaching ministries at Saddleback, he assists Rick Warren in teaching Purpose-Driven® Church conferences to Christian leaders around the world.

KAY WARREN co-founded Saddleback Church with her husband, Rick Warren, in Lake Forest, California. She is a passionate Bible teacher and respected advocate for people living with mental illness, orphaned and vulnerable children, and people living with HIV and AIDS.