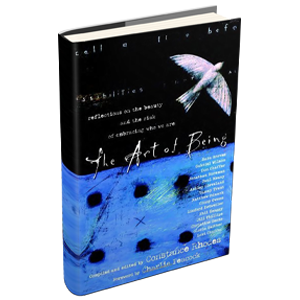 The Art of Being: Reflections on the Beauty and the Risk of Embracing Who We Are
"There's an art to being anxious for nothing. There's an art to being at peace with God, your neighbor, your world, and yourself. Oh what a great friend, follower, and citizen you are if you are at peace just being you. Start there, and you can go anywhere."
–from the foreword by Charlie Peacock

It's Not What You Do. It's Who You Are.

In today's achievement-oriented culture, it can feel impossible to separate who we are from what we accomplish. We introduce ourselves by announcing what we do for a living. Endless "to do" lists drive us away from self-discovery and true contentment. We hope that our successes will cause our busyness to feel worthwhile, yet despite our accomplishments, we long for something more.

Featuring original essays and stories from a diverse list of contributors including Jonathan Foreman (Switchfoot), Sara Groves, Matthew Odmark (Jars of Clay), Gloria Gaither, Don and Lori Chaffer (Waterdeep), Tammy Trent, and Linford Detweiler (Over the Rhine), The Art of Being explores what it really means to "be" who we are. Here you will find an encouraging, challenging companion on your journey toward discovering your true identity–and toward finding a satisfaction that lasts.

Life Is Not a Resumé

Higher bank balances, stylish clothes, and popularity among our peers may look impressive on the surface, but these things don't satisfy our craving for contentment. True satisfaction is found when our spirit is fed with a sense of purpose. The stories and reflections in The Art of Being will inspire you to resist the disappointing pursuit of the temporal and explore a deeper understanding of who you are as the unique artwork of your Creator.