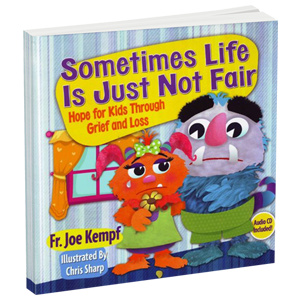 Sometimes Life is Just Not Fair: Hope for Kids through Grief and Loss
God understands... and will always be there to help us find a way.

For everyone, life can be really hard sometimes. But never fear: Father Joe Kempf and his furry friends, Big Al and Annie, are back with plenty of support. The best-selling tandem tackles some tough issues in this book in a way that a child will understand: If God is so good, why do innocent people suffer? What is our hope when someone we love dies? How do we go on when our hearts are broken?

When the heartaches come, these reflections, prayers, and activities will help every child find their way forward with God. In the back of the book, parents, grandparents, and teachers will find the coaching they need to love their children through the difficult times.

This wonderfully illustrated book meets the child (and the child in each of us) right where we are with just what we need. No one connects faith and real life like Fr. Joe and Big Al. Sometimes Life is Just Not Fair is the perfect book for when the difficult times come...and they visit us all.

Fr. Joe Kempf is a diocesan priest and founder of Gospel Values, a nonprofit company dedicated to proclaiming the beautiful message of Jesus for children of all ages. Fr. Joe and Big Al have been friends for many years. Big Al s favorite snack is popcorn and soda, his favorite color is blue, and the word he uses most often is cool.