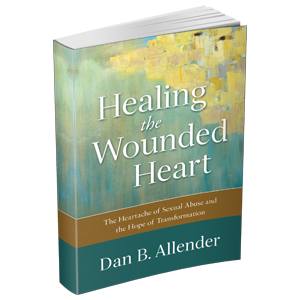 Healing the Wounded Heart: The Heartache of Sexual Abuse and the Hope of Transformation
First published in 1989, Dan Allender's The Wounded Heart has helped hundreds of thousands of people come to terms with sexual abuse in their past. Now, more than twenty-five years later, Allender has written a brand-new book on the subject that takes into account recent discoveries about the lasting physical, emotional, relational, and spiritual ramifications of sexual abuse.

With great compassion Allender offers hope for victims of rape, date rape, incest, molestation, sexting, sexual bullying, unwanted advances, pornography, and more, exposing the raw wounds that are left behind and clearing the path toward wholeness and healing. Never minimizing victims' pain or offering pat spiritual answers that don't truly address the problem, he instead calls evil evil and lights the way to renewed joy.

Counselors, pastors, and friends of those who have suffered sexual harm will find in this book the deep spiritual guidance they need to effectively minister to the sexually broken around them. Victims themselves will find here a sympathetic friend to walk alongside them on the road to healing.