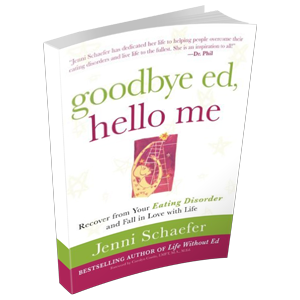 Goodbye Ed, Hello Me: Recover from Your Eating Disorder and Fall in Love with Life
Don't Battle an Eating Disorder Forever- Recover from It Completely
Jenni Schaefer and Ed (eating disorder) are no longer on speaking terms, not even in her most difficult moments. In her bestseller, Life Without Ed, Jenni learned to treat her eating disorder as a relationship, not a condition-enabling her to break up with Ed once and for all.
In Goodbye Ed, Hello Me Jenni shows you that being fully recovered is not just about breaking free from destructive behaviors with food and having a healthy relationship with your body; it also means finding joy and peace in your life.
"Jenni Schaefer has dedicated her life to helping people overcome their eating disorders and live life to the fullest. She is an inspiration to all!" -Dr. Phil
"Every young woman and man interested in overcoming disordered eating should read this treasure of a book." -Leigh Cohn, M.A.T., CEDS, Editor-in-Chief, Eating Disorders: The Journal of Treatment and Prevention
"The beauty of Jenni's written journey through her tormented relationship with Ed is that it is honest, passionate, hopeful-but, most important, it ultimately assures the reader that life really can move on." -Lynn Grefe, CEO, National Eating Disorders Association
Combining Jenni's signature personal advice and unfailing encouragement along with valuable exercises you can do as you read, Goodbye Ed, Hello Me will give you the prescriptive tools to take the final steps in divorcing your Ed completely.
Foreword by Carolyn Costin, LMFT, M.A., M.Ed.