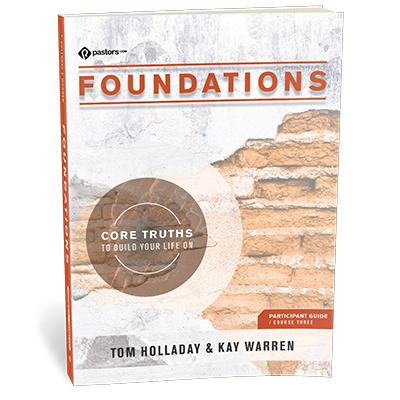 Foundations Course 3: Participant's Guide
The time you invest in learning, loving, and living God's truth will benefit every area of your life.
Please select "download a sample" above for "How to use this guide" and more.
Churches all around the world are using FOUNDATIONS to raise up an army of mature believers equipped for ministry in the church and prepared for mission in the world. FOUNDATIONS will take you through thought-provoking, life-changing explorations of 11 core Christian truths. Nothing can beat the rewards of gaining a transforming, biblical perspective on God, the world around you, and your own life and relationships.
Everything you need to fully participate in these lessons is clearly and methodically laid out for you to follow along with text and fill-ins.
LIFE-CHANGING OBJECTIVES — An overview of what to expect from each individual lesson.
HIGHLIGHT SECTIONS — Four kinds of sidebars help you and your group connect with God's truths through key words, thought-provoking insights, personal implications, and relevant applications.
FILL-IN SECTIONS — Easy-to-follow sections with fill-in space.DISCUSSION QUESTIONS — Questions at the end of each study will help you engage more deeply with the truths explored in your lesson.
MEMORY CARDS — Reproducible cards contain a key theme and verse for each of the doctrines covered.
FOUNDATIONS / COURSE THREE includes lessons on . . .
GOOD AND EVIL
THE AFTERLIFE
THE SECOND COMING
TOM HOLLADAY is senior teaching pastor at Saddleback Church in Lake Forest, California. Tom's passion in ministry is to help people discover a love for the Bible and an understanding of God's truth that changes the way they live. In addition to his pastoral leadership and weekend teaching ministries at Saddleback, he assists Rick Warren in teaching Purpose-Driven® Church conferences to Christian leaders around the world.
KAY WARREN co-founded Saddleback Church with her husband, Rick Warren, in Lake Forest, California. She is a passionate Bible teacher and respected advocate for people living with mental illness, orphaned and vulnerable children, and people living with HIV and AIDS.