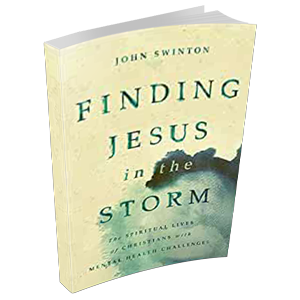 Finding Jesus in the Storm: The Spiritual Lives of Christians with Mental Health Challenges
People with mental health challenges are not excluded from God's love or even the fullness of life promised by Jesus. Unfortunately, this hope is often lost amid the well-meaning labels and medical treatments that dominate the mental health field today. In Finding Jesus in the Storm, John Swinton makes the case for reclaiming that hope by changing the way we talk about mental health and remembering that, above all, people are people, regardless of how unconventionally they experience life.
Finding Jesus in the Storm is a call for the church to be an epicenter of compassion for those experiencing depression, schizophrenia, bipolar disorder, and related difficulties. That means breaking free of the assumptions that often accompany these diagnoses, allowing for the possibility that people living within unconventional states of mental health might experience God in unique ways that are real and perhaps even revelatory. In each chapter, Swinton gives voice to those experiencing the mental health challenges in question, so readers can see firsthand what God's healing looks like in a variety of circumstances. The result is a book about people instead of symptoms, description instead of diagnosis, and life-giving hope for everyone in the midst of the storm.