---
Mental Health Ministry Starter Kit
---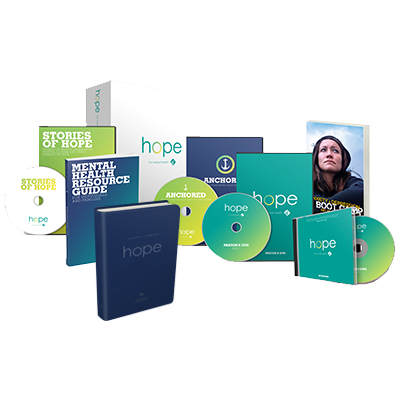 Mental Health Ministry Starter Kit
The Mental Health Kit is full of tools to help you or your church launch a Mental Health Ministry. Learn more about what's included below.
---
The Mental Health Ministry Starter Kit includes:
HOPE FOR MENTAL HEALTH PASTOR'S DVD: Pastor Rick and Kay Warren, and Pastor Tommy Hilliker explain the Biblical foundations and guiding values behind the mental health ministry model at Saddleback Church. They will answer commonly asked questions and describe the step-by-step pathway to an effective and comprehensive mental health ministry that can be implemented by every church regardless of size.

HOPE FOR MENTAL HEALTH SERMON CD: A compilation of messages from Pastor Rick and Kay Warren.

ANCHORED: STUDENT MINISTRIES MENTAL HEALTH WEEKEND SERVICES DVD: Includes messages, testimonies, videos, games, and graphics to help youth group leaders discuss mental illness with their students.

MENTAL HEALTH RESOURCE GUIDE FOR INDIVIDUALS AND FAMILIES: Includes basic education about common mental illnesses, answers to frequently asked questions, and helpful information for families on how to support their loved ones with mental illness. It is provided free of charge as a courtesy to those seeking insight and information on mental health. The Mental Health Resource Guide for Individuals and Families is provided free of charge as a courtesy for those seeking insight and information on mental health. It is designed to serve as a simplified reference guide and should not be utilized as a diagnostic tool. Click HERE to download the Resource Guide now!

STORIES OF HOPE TESTIMONY DVD: Real lives, real hope. Be encouraged and strengthened by these individuals and families affected by mental illness as they share how God's love helped them experience hope in the midst of struggle.

JOURNEY TOWARD HOPE: A GUIDED EXPERIENCE: Living with mental illness can be challenging, isolating, and painful. The pages are filled with Scripture, experiential practices, prayers, space to journal, and personal stories to help move toward hope. There is a Discussion Group Leader's Guide that is available to help groups of people go through the Journey Toward Hope in a support group setting. Purchase the Guide by clicking HERE or download a digital copy HERE.

HOPE FOR MENTAL HEALTH RESOURCE FLASH DRIVE: Includes transcripts, bulletin inserts, graphics, and additional resources to help equip your church as you start a mental health ministry.

FREEDOM from ANXIETY AND DEPRESSION Saddleback Church uses this powerful book, by Mike Marino, as a tool for our depression and anxiety support groups.