mental health & the church
*The information contained on this website is drawn from a variety of sources about mental illness; however it is not a comprehensive study and the information is not intended to be used as a diagnostic tool. Through this website you are able to link to other websites - each website is independently operated and is responsible for the information contained on their site. We cannot endorse everything contained on the individual sites, but we hope the information will be useful.
The commitment of Saddleback Church to people living with mental illness greatly increased on April 5, 2013 when Pastor Rick and Kay's youngest son, Matthew, took his life after a lifelong struggle with mental illness. In the midst of the devastating loss of Matthew, Pastor Rick and Kay along with the Saddleback community, have united together to journey alongside people living with mental illness and their families in a holistic way.
The Hope for Mental Health Ministry extends the radical friendship of Jesus by providing transforming love, support, and hope through the local church. The heart of this ministry comes from three passages of Scripture: "I have called you friends, for everything that I learned from my Father I have made known to you" (John 15:15), "Serve one another in love" (Galatians 5:13b), and "May the God of hope fill you with all joy and peace as you trust in Him, so that you may overflow with hope by the power of the Holy Spirit" (Romans 15:13).
Five life-transforming Scriptural truths that shape our approach to the Mental Health Ministry are illustrated in The Hope Circle. Each truth combats a negative message that holds people back from moving toward hope.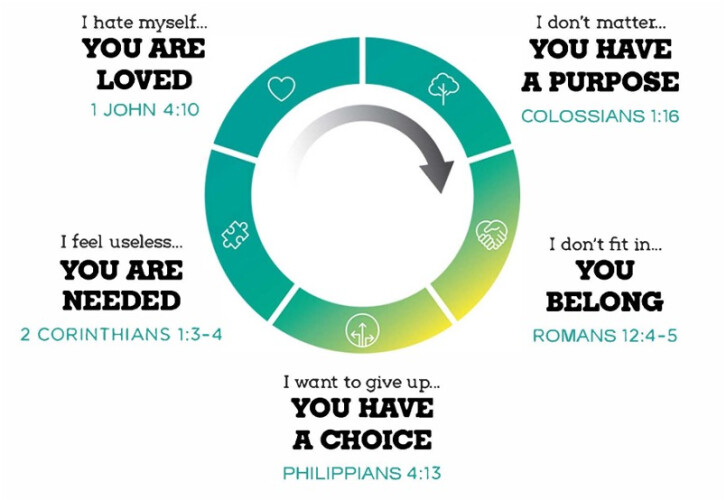 ---
What Can the Church Do?
Is there a role for the church in walking alongside people living with mental illness? The answer is a resounding YES! Studies show when people are struggling with mental illness the first place they call is the church. There is hope for mental illness.
Most people understand that mental illness is just that - an illness - and as such, often requires medication and treatment by mental health professionals for management and improved health. But the flip side of that realization can lead us to believe that there is nothing significant the faith community can offer to a person living with mental illness. This is a misperception! In reality, the church is tasked with caring for the whole person - body, mind, and soul - and that means we must recognize and care for a person with an illness. The church can speak into the soul and personhood of the individual in ways that medical professionals cannot.
Your greatest ministry will come out of your greatest pain.

Pastor Rick Warren
A Church-Initiated Mental Health Strategy
Saddleback Church has created a Church-Initiated Mental Health Strategy that can be built over time, adapted, and implemented into all areas of ministry in any church. Start small and gradually expand. It is helpful to look at building a mental health ministry through the stages or crawl, walk, and run.
Crawl
Crawl steps do not require money, training, resources, or paid staff. They are beginner steps for easing into creating your mental health ministry. All churches can implement crawl steps.
Refer to mental illness within sermons
Within weekend services pray for people who are living with mental illness and their families
Invite people who are living with mental illness to share their testimony in a church service
Equip people for ministry by reading The Purpose Driven Life
Study God's plan for every member to be involved in caring for the sick on a tangible way
Give your congregation a survey that asks them questions related to mental health
Provide a referral list of mental health resources available in your community (NAMI, 2-1-1, 1-800-273-TALK)
Educate and raise awareness in your congregation by inviting mental health professionals to speak about mental illness
Provide space for free NAMI (National Alliance on Mental Illness) support groups to meet at your church
Take a meal to someone newly diagnosed with mental illness
Befriend someone living with mental illness - go to a movie together or get a cup of coffee
Give hope to people who are mentally ill be providing encouraging connections: call, text, e-mails, letters, etc.
Walk
Walk steps require some training and minimal financial support. There is a greater level of commitment, but most churches can take these steps.
Preach sermons specifically about mental illness
Start mental health specific ministries such as support groups for adults and youth
Start a Celebrate Recovery

®

Create care teams of three or four individuals who will commit to an on-going relationship with an individual or family to help with basic needs (helping with household tasks, transportation to doctor visits, basic home repairs, etc.)
Train volunteers to be "companions" during a church service to anyone appearing distressed, depressed, or lonely
Regularly connect your church members in opportunities to serve
Help connect people in your congregation who have similar mental health challenges (with their permission)
Build a mental health library with books and resources available (for a list of Kay's recommended mental health books, click HERE)
Use local mental health professionals to offer frequent educational meetings for your staff, volunteers, and parents
Run
Run steps require a higher level of commitment, more extensive training, financial support, and trained church staff. Some churches can take these steps.
Integrate mental health into existing ministries within the church
Develop a lay counseling ministry
Hold mental health support groups for children
Create a mental health safe place where people who are living with mental illness can come and find comfort and support
Provide staff with more advanced mental health care training
Create care teams of three or four individuals who will commit to an on-going relationship with an individual or family to help with mental health needs (assist in making connections to resources, programs and professionals who might be helpful to their specific needs - advocate for them in a holistic way)
Establish serving opportunities for people living with severe mental illness
Partner together with a mental health organization in your community to provide services such as a PEACE Center, mental health clinic, and therapeutic support groups
Hold a mental health ministry event; host a one-day mental health conference
Build a team of volunteers who can help others in your community to become involved in caring for people living with mental illness and their families
Become a model of what every church can do about mental illness by being a reliable source of information about mental illness
---
This strategy is built on the acrostic C.H.U.R.C.H.