Authors Encourage Women to Live Radical Lives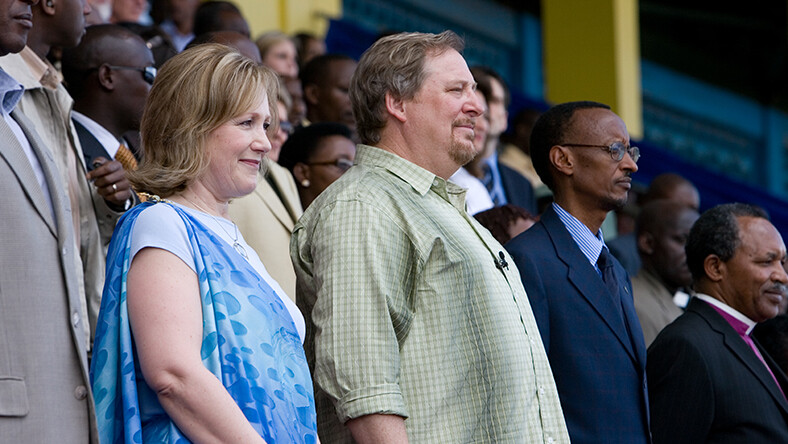 What does radical living look like? Is it really worth the cost? Three authors ask those questions of women while they promote a vision of the surrendered life.
Kay Warren's Dangerous Surrender: What Happens When You Say Yes to God depicts the most radical approach to living the kingdom life. The wife of celebrated minister and author Rick Warren chronicles her journey from being a shy, empty-nest mom to what she calls "a seriously disturbed woman ... compelled to do something" about what she saw.
Warren traveled through Asia and Africa to meet refugees, orphans, widows and dying victims of the AIDS epidemic. She came face to face with the evil of the big business of sex slavery and child prostitution.
Often, she writes, "We refuse to talk about the painful, disturbing subjects — child prostitution, child labor, rape, poverty, injustice, ethnic hatred, greed, materialism, environmental destruction, HIV&AIDS." Warren overcame that fear and is doing something about those evils.
As the boundaries of Warren's vision expanded, she became a voice for women and children with HIV, established a local and global outreach and engaged fellow believers.
She discovered, "We are most like Christ, when we choose to offer the gift of our presence and choose to absorb within ourselves the suffering of the least, the last, and the lost." Warren asserts that such a radical commitment begins with surrender. Putting your life into the hands of God provides the security from which such radical commitment emerges.

Jill Savage in My Heart's At Home explores the radical commitment of a woman at home. She champions the radical profession of motherhood.

"Once I thought of it as a profession, I pursued it with as much intentionality as I would any other career." A mother of five (a radical surrender in itself), Savage says a mom is analogous to a house contractor. She is in charge of construction, repair and expansion. Using that image she explores the four parts of a woman's commitment to motherhood: the foundation, the framework, the details and the personnel.

Each of the book's 12 chapters provide practical and encouraging "blueprints" for how the mother as disciple plays out in life. Blueprints include "Mom and Dad, Managing Partners" and "Kids, Builders Under Construction." The book features a Discussion Guide with ice breakers, "dig deep questions" and an application for each chapter.

"Are you ready to embrace Jesus as the one to guide you through life?" With that question, Donna Carter takes up a woman's call to radical discipleship among her friends.
Although the title, 10 Smart Things Women Can Do To Build a Better Life suggests another self-serving "how to" book, Carter guides women to apply faith in their daily lives.
She begins by offering an easy to use tool for friendship evangelism. Carter, who along with her husband, is a motivational speaker in the "Straight Talk" ministries, builds a bridge "between our world and the world of the-not-yet-convinced." The book is structured so it can be studied either among close friends or in a small group.
All three books point toward radical living. Inherent in each is the message that corporate surrender is affected by the obedient surrender of one person. Not every church is called to lead an outreach into the HIV populations of our communities as Warren suggests. However, we can agree that we are all called to reach out to others in our homes and our neighborhoods.
If any of the three authors were asked, "Is radical surrender worth the cost?" each would agree with Warren's answer: "There is a cost associated with dangerous surrender, but there have also been gains — positive gains that have deepened my character, sharpened my skills, and emboldened my faith."
All three volumes offer additional help to women seeking a more radical life of discipleship. Warren's eight-page bibliography includes volumes by Dietrich Bonhoeffer, John R. Stott, Ravi Zacharias and Randy Becton.
All three authors have current, user-friendly Web sites associated with their topics — kaywarren.com, heartsathome.org, and 10smartthings.com.

Carter's straightforward and simple Web site offers the fewest tools. Warren and Savage provide interactive media presentations by the authors or other speakers, along with music and links to other sites for deeper study. Warren offers weekly online chats every Wednesday.
Women from all corners of church life including women's ministry leaders who are looking for inspiring resources should consider at least one of these books.
After reading Brad Currey's recent report presented at the Riverside Church of Christ in Coppell, Texas, I was struck by how relevant Warren's call for ministries of "social justice" is for the women in our church. He pointed out that most of our cities are experiencing urban renewal along with an increase in population diversity. Warren calls us to embrace this diversity through our ministries rather than moving away to sites more convenient for our members.
Micah 6:8 might be an apt summary of all three volumes. The prophet asks, "What does the Lord require of you?" Then comes the answer: "To act justly and to love mercy and to walk humbly with your God."
Warren explores being Christ's hands and feet in our world; Savage takes up the same task in the family; and Carter urges a similar role with our friends.

Keep these books in mind as you make decisions about your personal reading and the ministries within your church.

MARYBETH McCOWN is a former missionary to Guatemala and a retired teacher and librarian. She serves on the Austin LifeCare board and the women's ministry team at the Brentwood Oaks church in Austin, Texas, where her husband, Roger, preaches.