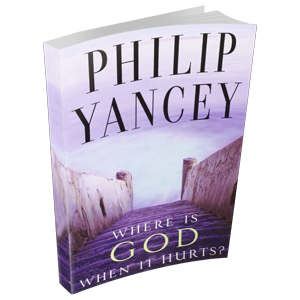 Where is God When It Hurts?
An inspirational classic for more than thirty years, Where Is God When It Hurts? honestly explores pain - whether physical, emotional, or spiritual - and sheds new light on God's presence in our suffering. Includes a discussion guide.
"How can a loving God allow this to happen? Either God is all-loving or all-powerful, but he can't be both."
You've heard that question, and perhaps even asked it yourself. No matter how you complete it, at its root lies the issue of pain. When a loved one dies, we receive a terminal diagnosis, or natural disasters strike, people often wonder whether God is the cause of suffering and why he doesn't immediately take away the pain or fix the situation. As a result, we become angry at the once-beloved God who betrayed us.
In this Gold Medallion Award-winning book, Philip Yancey uses examples from the Bible and from his own experiences to show us how we can learn to accept - without blame, anger, or fear - that which we don't understand. He answers questions such as:
Why is there such a thing as pain?
Is pain a message from God?
How should we respond to suffering?
How can we cope with pain?
Does faith help?
Yancey speaks to everyone for whom life sometimes doesn't make sense. With compassion and clarity, Yancey brings us one step closer to finding an answer when our pain, or the pain of those we love, is real and we are left wondering, where is God when it hurts?